1. BIG TOP BOX OFFICE
PHONE LINES ARE NOW OPEN, 9am to 9pm daily.
CALL NOW ON 0203 375 3970
The Circus Box office will be open daily at each venues, as advertised, from 9am to 9pm.
There are 500 unreserved seats available for every performance.
Book Now

You can call us on 0844 338 8000 or click here to book online.
Calls cost 7p per minute plus your phone company's access charge.
Our lines are open from 9am to 7pm (Monday to Friday) and 9am to 5pm (Saturday, Sunday and Bank Holidays).

Accessible Seats & Wheelchair access not available online
Disabled customers must book by calling the circus ticket office on 0203 375 3970
Refunds
Can not be made once payment is received.
Management reserve the right to refuse admission for reasons of safety and order.
Performances as described and illustrated may be subject to variation without prior notice.
Big Top Seating Plan
Please click the relevant seating section to see your view of the show!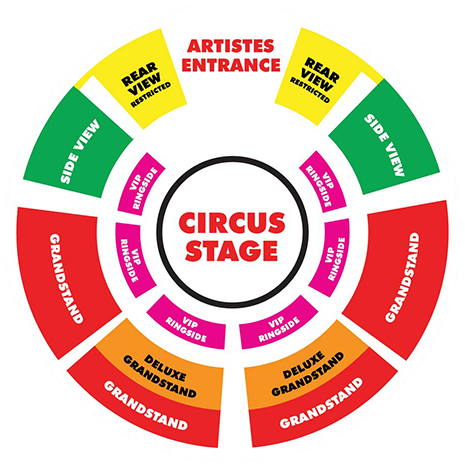 Ticket Prices

Rear Circle: Tiered seating with a restricted view of stage.
Side Circle: Tiered seating with a side view of stage.
Grandstand: Tiered seating with a front view of stage.
Grandstand Deluxe: Deluxe cushioned seats on first five rows facing stage.
VIP Ringside: Three rows of individual chairs all of which are on floor level and surround the stage. This area is wheelchair accessible & step free.
All areas are NOT numbered so please arrive 45 minutes before the performance to avoid disappointment.